9 Tips to Upgrade Your Bath for a Spa Day at Home
A day at the spa is the perfect way to de-stress yourself after a hectic week. You can do that in your own haven every single day by having a Spa Day right in the comfort of your home with some easy tips.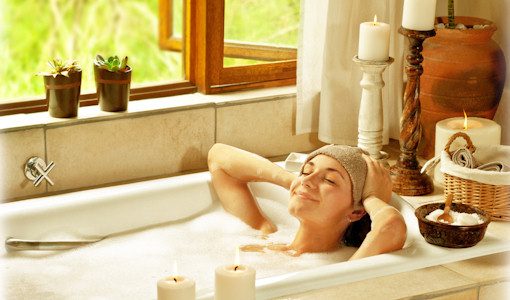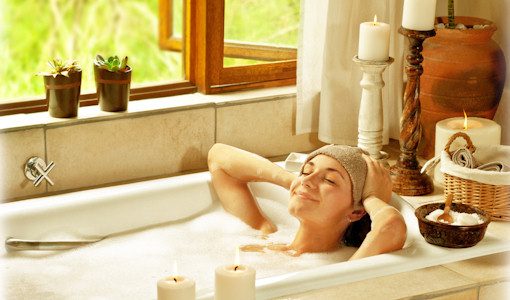 Despite being the most used room of your house, the bathroom often gets neglected. Work on it to create a spa in the comforts of your own home:
1. Adjust the Lighting
Changing the entire lighting system of your bathroom permanently  is neither possible nor viable. For a special spa day at home, you could simply turn them off and use alternative lighting like candles, instead. The soft, flickering light will replace the harsh lights that most bathrooms have and uplift your mood right away.
2. Fragrance
There are several ways of adding a beautiful fragrance to your at-home spa experience. If you are going for candle light as suggested in the previous tip, opt for scented ones. You could also add a few drops of essential oil in your bathtub and create a fragrant soak. An aromatherapy oil burner gives the same results.
3. The Sound of Music
Equally important like the lights and smells, music has been scientifically proven to lift moods. Soft, soothing melodies lower blood pressure, slow down your heart rate and reduce stress.
4. Add Some Color
The sensory experience of sight works in the same way as sound, smell and touch. It needs something uplifting to relax and enjoy. If you would like some cheering up, replace existing towels, bathmats and shower curtains with brighter shades. If not, keep them muted and add some plants and flowers to refresh and relax you as you enjoy your spa experience. For people willing to do more expensive projects, there are many relatively cheap ways to renovate your bathroom to improve the overall aesthetic. Some examples are upgrading the sink, or installing new, or improving on existing bathroom vanity decor.
5. Bath Blends
Which spa treatment do you fancy today? You could create your own bath blend every time you have an 'at home' spa day. An energizing herb bath or a moisturizing honey bath are all very easy to create. See our Bath Blends recipes for more ideas.
6. Hot or Cold?
The effects of a warm water bath calm your mind and body. It lowers blood pressure and improves blood circulation. A bath too hot will cause breakage of tiny veins and increase your heart rate which will not let you relax. On the other hand, a cold shower can give you that instant rejuvenation when you need one, and also close up your pores to avoid external toxins. The best of both worlds would be a warm soak followed by a cold shower.
7. Showers and Hot Tubs
A Hot Tub (or a Jacuzzi, or Whirlpool or a Spa – they are all pretty much the same) would be a great idea if you enjoy your at-home spa sessions. Their hydro-massaging features and water jets will relax your tired muscles and improve blood circulation. You can even get a multi-function cabin that combines a sauna, shower and steam room with an MP3 player installed. On a smaller budget, you could update your shower to a more luxurious one. There are plenty of options available from electric, mixers, overhead, hand-held and showering panels that stream water jets on your body from every possible angle. Showering is definitely not the same old process anymore.
8. The Spa Procedure
Before the Soak: Turn your bathroom into a Sauna. Create steam by letting hot water run (without foam) in the closed room. The steam will cleanse, detoxify and open the pores of your skin.
While Soaking: Exfoliate your body using a loofah and scrub hand and feet. After 10 minutes of soaking, your body hair becomes softer. Now is the perfect time to shave.
After Soaking: Take a quick shower and moisturize very well since soaking strips the skin of essential body oils.
9. Tickle Your Taste Buds
Indulge in a decadent evening by perfecting it with something to drink and nibble. A glass of wine or a non-alcoholic drink like hot tea, fresh cut fruit, chocolate will enhance your mood and that is sure to show on your skin when you come out. You could also make it more health conscious and sip green tea for a more wholesome health spa experience.