7 Beauty & Makeup Must-Haves for Your Handbag
It happens more than just once, that the day takes us to places we were simply not prepared for. It could be a necessary stopover at somebody's house or a store, an impromptu lunch or coffee date with a friend, a surprise presentation at work etc. Here's a list of beauty must-haves you should have in your handbag to be prepared to face whatever it is, that you have to.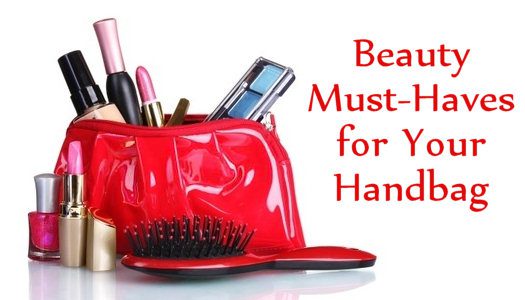 1. Lipstick

Christian Dior Addict Extreme Lipstick
Lip gloss, if you really prefer, but really, lipstick can be adapted to any kind of situation. You can apply a thick color or dab with a tissue to get paler color on your lips. Lipstick will immediately update your look for any occasion.
2. Mascara

L'Oreal Paris Voluminous Full-Definition Mascara, Blackest Black
There is a never-ending debate between eyeliner and mascara and each woman will have a different favorite, but Mascara can quickly perk up your eyes and enhance your makeup like no other product does. If you really need to line your eyes, you can apply a darker line of mascara near the eye line and give them a lined look. So, it can be used as both mascara and eyeliner. Go for a waterproof mascara any time.
3. Concealer

Yves Saint Laurent TOUCHE ECLAT Radiant Touch
Give your face an instant face lift by making your skin tone even and even hide away blemishes, pimples and signs of tiredness. You have to have a base in your handbag to brighten your face. A great product which has been a favorite with all fashionistas for over 20 years is YSL Touche Éclat Radiant Touch, a highlighting pen that gives you a flawless complexion.
4. Hand Cream

Elizabeth Arden Eight Hour Hand Treatment Cream
Make it a habit to carry a hand cream with you at all times and make it another habit to keep moisturizing your hands every hour. Even if you forget to do it, do it before running out in an emergency. Hands tend to dry out quickly and start looking lack lustre. Keep them soft and moist.
5. Dry Shampoo

Klorane Gentle Dry Shampoo with Oat Milk
A new addition to beauty must-haves, this one is a boon! Whether you hair is greasy, or just not looking that perfect, you can quickly spray some dry shampoo and brush to wipe away all the oiliness and have fresh looking hair.
6. Nail Polish and Remover
You simply cannot skip this one. There is NOTHING worse than showing up somewhere with chipped nail polish. Keep nail color in your handbag and update your nails. Or if you simply do not have the time to apply a fresh coat, at least remove the old nail color.
7. Hair Removing Tools

Veet Gel Cream Pump Sensitive Formula Hair Remover
A shaver or a hair removing cream, is a must if you never wish to be embarrassed by that little tuft on a finger or arms or even your feet. It is always handy to have some kind of hair removing solution with you at all times.