60's Inspired Teased Crown look – DIY Glamorous & Chic Holiday Hairstyles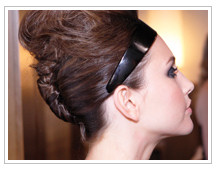 This year's 'it' Holiday hairdo is all about 'Bold' and 'Volume'! Pantene Pro-V Consulting Stylist, Justin German describes the six easy steps to get this hairstyle for yourself:
Step 1: Wash and condition hair with Pantene Pro-V Fine Hair Solutions Flat to Volume Shampoo and Conditioner. Micro boosters help prepare the hair for maximum lift and bounce. Step 2: Apply Pantene Pro-V Fine Hair Root Lifter Spray Gel to the roots of wet hair. This sets the stage for lasting volume by creating a 'hooking' effect between fine hair fibres. Step 3: Blow-dry hair using a large round brush to achieve volume by rolling hair in towards the head. Flip hair upside-down to help lift the roots and give a quick blast of cool air before flipping over to help set the style. Step 4: When hair is dry, in 2 inch sections, wrap hair in large velcro rollers for added body. Step 5: Remove rollers and gently tease hair at the crown to create extra height. Step 6: Place a thick black headband at front and push back so it sits on the hairline to emphasize volume at the crown.