5 Ways to Find the Perfect Swimwear for Your Body Shape
Women come in all shapes and sizes, from athletic, to petite, to curvy, and many others. Further, women have different types of figures ranging from hourglass, pear, apple and triangle. All these variations in body types have led fashion designers and clothing retailers to create clothing to fit the majority of women, after years of concentrating on stick thin model types.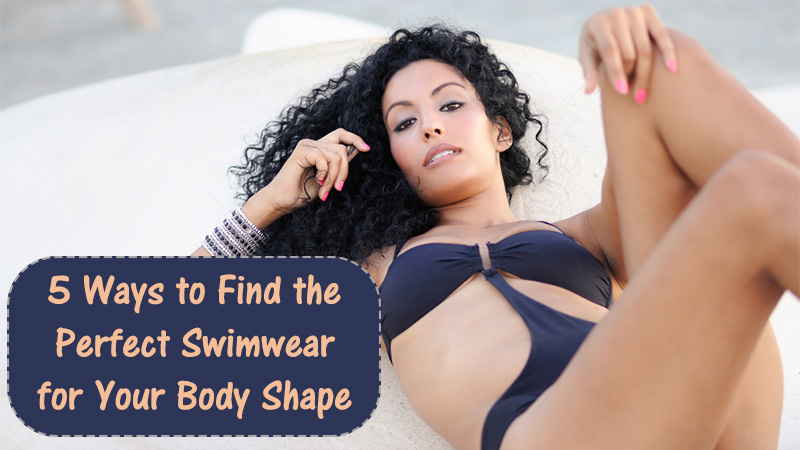 One area that women are spoiled for choice is swimsuits, with designers going out of their way to provide multitude designs to fit various body types. Indeed, with the great variety of swimsuits available, it can sometimes prove difficult to find the right one for you. However, with a little patience and research, you can sort through the thousands of choices available and find a swimsuit that is perfect for your body shape. Below are a few tips to help you choose the right swimsuit for you:
1. Consider Your Shape
Body shape typically refers to how the weight is distributed in your body. The most common types of body shapes include pear, apple, hourglass and ruler. Women with a pear shape have hips that are significantly wider than their waist or bust while hourglass shapes have a tiny waist with proportionate hips and bust. The best way to find out your body shape is by measuring your bust, waist and hips at their widest points and then compare them with the common body shapes. Armed with these measurements, you can then begin to visit swimsuit shops to find the perfect option for you.
2. Choose the Right Store/Brand
Different types of stores stock different types of swimsuits to attract their desired clientele. For instance, some stores will target plus sized women, athletic types, models and many others. There are also brands that cater to certain body types. For instance, Kenneth Cole swimsuits can be found in a variety of shapes and sizes and more and more companies and brands are focusing on the plus size market, which is a huge market in the United States and across the globe. It is therefore important to find out which store stocks the type of swimsuit you are looking for before embarking on your search or visiting a store that will not meet your needs. Reading up about a store's products online or asking for recommendations from friends are some of the best ways to find out about the right stores.
 3. Pick Swimsuits that Concentrate on Your Best Features
Go for swimsuits that flatter your best features while hiding your flaws. For instance, if you have a tiny waist, you could go with a cut that places emphasis on your flat and trimmed abdomen, while taking attention away from large hips. Use color, patterns, detailing such as ruffles, different fabric types and various types of cuts to draw attention to your best features as well as hide undesirable bits.
 4. Choose Your Swimsuit According to Type of Activity
It goes without saying that a swimsuit for cat walking or basking on the beach will be vastly different from one required for surfing or any other athletic activity. For instance, you do not want to pick a string bikini for waterskiing unless you want to give the audience on the beach a view they had not signed up for. If you are planning on engaging in athletic activities, choose a swimsuit with inbuilt support and stretchy fabrics, otherwise if you plan on vegging out on the beach all day, you can go for that itsy bitsy bikini without fear.
5. Pick the Right Size
Check for places where your skin is bulging, straps are cutting into your skin or parts of your body are hanging out when trying swimsuits out for size. As a rule, you can go up one or two sizes when picking a swimsuit but bear in mind that most swimsuits will stretch when wet and may hang unflatteringly when worn. It is therefore important to ensure that you do not pick a swimsuit that is too large or too small. Ultimately, the best size guide is how comfortable you feel in the swimsuit, without having to worry about sucking in your tummy or padding it in loose places.
Having the right swimwear is essential to enjoying your time at the beach or swimming pool. By following a few simple strategies, you can choose a flattering and comfortable swimsuit that will help you make the best of your time in the water.