Eyeliner makes your eyes stand out and there is no question that it is one of the most important of any makeup look. But most women apply eyeliner in only one style no matter what the occasion. Well, here is news! There are more than one ways of playing with your eyeliner and making your eye makeup perfect for different events and occasions.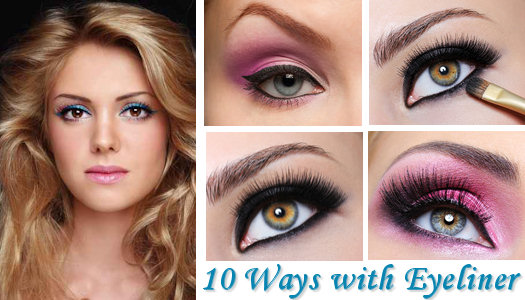 Dot Com Women gives you step by step instructions to wear your eyeliner in 10 different ways – from the basic everyday top lash to more dramatic, modern and funky eyeliner looks.
For your convenience, we have divided the styles into 2 videos.
10 Different Ways to Apply Eyeliner – Video 1
The first video demonstrates the following 5 styles of applying eyeliner:
1. Top Lash Only – Your Every Day Basic Look
2. Dramatic Cat Eye with Lower Lash – A Winged Tip with some useful tips on making the perfect tip
3. Modern Winged Liner – The Winged Tip pulled longer on both top and bottom lashes
4. Colored Bottom Lash
5. Funky Summer Liner – With Colored Gel Liner on Upper and Lower Lash Line and a black winged tip
See 5 More Ways to apply Eyeliner on the Next Page